St Patrick's School
Katanning
St Patrick's School
Katanning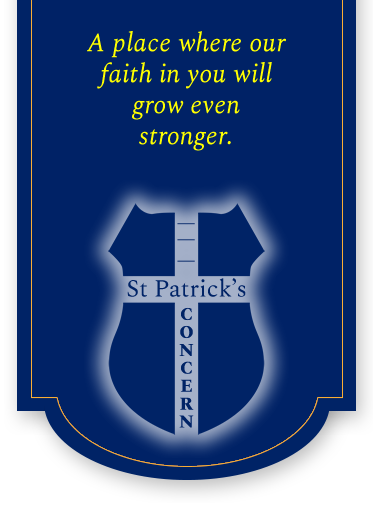 Principal's Welcome
At St Patrick's Primary School, we value the partnership of parents and parish in the development of the whole child and aim to provide an educational experience that assists students in becoming well informed, educated, pastoral members of the Katanning community.
Teaching and learning is our core business and our programs are planned and delivered with an understanding of how students learn, and by evidence-based instructional practices.  Our renewed focus on early reading instruction and targeted intervention means that we will be able to recognise those at risk early and have strategies in place to ensure their future success. 
Our teachers are highly motivated. They continually look for opportunities to improve as professionals and are passionate about seeing our students succeed. They regularly engage in professional learning both at a school level and at a system level.
St Patrick's offers many specialist subjects and out of school programs including: Year Six Camp, Physical Education, School and Interschool Carnivals, The Arts, Languages, Technologies, Humanities and Social Sciences.  Our students also represent the school in many community events including the Harmony Festival and ANZAC Day.
Our students also have opportunities to live out their faith by participating in Mass and Sacramental Programs as well as participating in our weekly Religious Education units of work.
We have a dedicated School Board and Parents and Friends Committee who work tirelessly in promoting the school and raising funds so that we can continually improve on what we are able to provide for our students at St Patrick's.
I welcome you to our website and hope that you can find the answers that you need.   For more information, please contact the office on 98208100.
Welcome to St. Patrick's School, a vibrant learning community in the beautiful Great Southern region of our state. We have a rich history and heritage, having been established by the Our Lady of the Missions sisters in 1926.
We have built a culture of continuous improvement, working together to ensure that we are developing our students in mind, heart, body and spirit. We offer a safe, positive and contemporary learning environment in which all students can flourish and experience a sense of belonging.
We continue to be guided by the traditions and beliefs of the Catholic Church, striving to develop the faith of all of those in our community. Our community recognises the uniqueness of each child as we encourage the spiritual development of all.
Our professional and dedicated teachers, supported by our wonderful administrative and teaching assistant staff, are committed to best teaching practice and using their expertise to create balanced and challenging learning programs, differentiated to meet the needs of each child. A wide variety of learning programs enhances student achievement.
Parents and community members are encouraged to be involved in all aspects of school life. We value parents as partners in the education of their children and we welcome parents to contribute to the school in a variety of ways.
We work to ensure that each child who attends St. Patrick's feels valued, with a sense of achievement each day. We are a community of hope, taking opportunities to celebrate together.
If you would like to find out more about what we can offer you and your child, please contact our friendly staff at the school office to arrange a meeting and/or tour of the school (9820 8100).
God Bless
Brett Wilkie
Principal
St. Patrick's School, Katanning
We believe that each child is a precious gift from God with their own gifts and talents.