St Patrick's School
Katanning
St Patrick's School
Katanning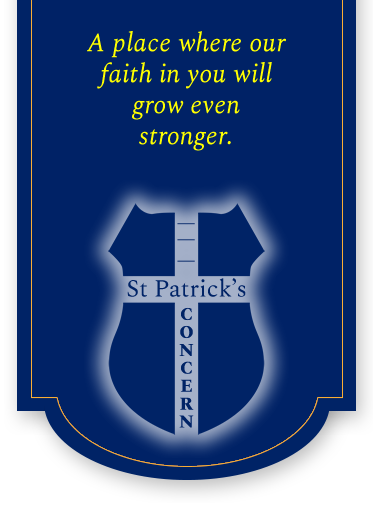 Religious Education
'As the primary educators of their children, parents have special responsibilities regarding Catholic schools. Chief among them is to help ensure the school's life and practices are consistent with a distinctively Catholic environment.' (Bishops' Mandate Letter Catholic Education Commission of Western Australia, para. 57)
Religious Education at St Patrick's School follows the Perth Archdiocese Religious Education Units of Work. This program is to promote understanding of Christian beliefs and practices. Religious education is taught in a context with the same systematic demands and rigour as any other learning area.
Religious Education possesses 5 Learning Area outcomes that link to the Curriculum Framework. Each Religious Education Unit follows a cyclical process that involves three essential steps:
A. Wondering at the Creator
We wonder at experiences of being human and what religious meaning is given to these experiences. We try to understand what attribute of God is revealed through these experiences.
B. The Promise of Christian Salvation
Looking at what Jesus models to us through the Christian Promise and how Jesus empowers us to live like him.
C. Christian Response
Looking at Christ's power through His Church and how we can continue to wonder at Christian possibilities and become the person God wants us to be.
Pre-Primary and Year One will cover 12 units over the year, with daily lessons of 15minutes. Years Two to Seven cover eight units of work, within daily lessons of 30minutes. These units follow the following themes:
Baptism
Penance
Eucharist
Confirmation
Church
Bible
Prayer
Jesus
Children participate in Sacramental programmes in Year Three (Penance), Year Four (Eucharist) and Year Seven (Confirmation). Parents are an integral part of this preparation and are encouraged to assist the class teacher in any way they can. Parent information sessions are held as part of the preparation for each sacrament and parents are strongly encouraged to attend.
More information regarding the Religious Education programme is available from the class teacher. Enquiries are welcomed.
This program is to promote understanding of Christian beliefs and practices