St Patrick's School
Katanning
St Patrick's School
Katanning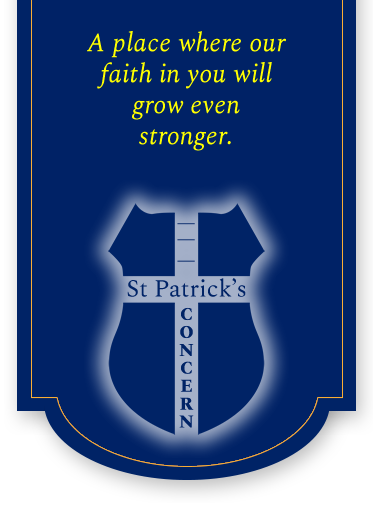 Religious Education
Religious Education is central to the learning and development of students in Catholic schools. Religious Education focuses on the knowledge and understanding of the Gospel as it is handed on by the Catholic Church to those who follow Christ.  It is through learning in Religious Education that students, through a process of cultural, systematic, and critical reflection, learn the teachings of the Gospels and understand how Christians live. Religious Education engages students into a systematic study of the teaching of the Catholic Church and the saving mystery of Christ which the Church proclaims. Students learn how religion motivates and influences the way people interact with each other and the world around them. 
Religious Education plays an important part in developing the knowledge, understanding, values, attitudes, skills and capabilities of those who will take responsibility for Australia's future as a multicultural and multifaith society.
The Bishops of Western Australia have prime responsibility for Religious Education and authorise the content and process of the curriculum for schools in Western Australia.
Religious Education has a mandated and formal curriculum for classroom learning and teaching for Years K-12. The curriculum is distinct from but complements faith formation. All students in Catholic schools in Western Australia are required to learn Religious Education.
The Religious Education Curriculum is modelled on the School Curriculum and Standards Authority (SCSA) Western Australian curriculum. As with other curricula, the Religious Education curriculum specifies the knowledge, understanding, skills, values, and attitudes that students are expected to acquire and provides guidelines for the assessment of student achievement.
The Religious Education curriculum draws on Sacred Scripture and the Catechism of the Catholic Church as principal sources for the content of teaching and learning of Religious Education. The Directory for Catechesis guides the processes that are appropriate for effective teaching and learning in Religious Education.
https://k10outline.scsa.wa.edu.au/home/teaching/curriculum-browser
Pre-Primary, Year One and Year Two students cover 12 units over the year, with daily lessons of 15minutes. Years Three to Year Six cover eight units of work, within daily lessons of 30minutes. These units follow the following themes:
Baptism
Penance
Eucharist
Confirmation
Church
Bible
Prayer
Jesus
Children participate in Sacramental programmes in Year Three (Penance), Year Four (Eucharist) and Year Six (Confirmation). Parents are an integral part of this preparation and are encouraged to assist the class teacher in any way they can. Parent information sessions are held as part of the preparation for each sacrament which provides candidates and their families an overview of the Sacrament  being undertaken.
More information regarding the Religious Education programme is available from the class teacher. Enquiries are welcomed.
This program is to promote understanding of Christian beliefs and practices