St Patrick's School
Katanning
St Patrick's School
Katanning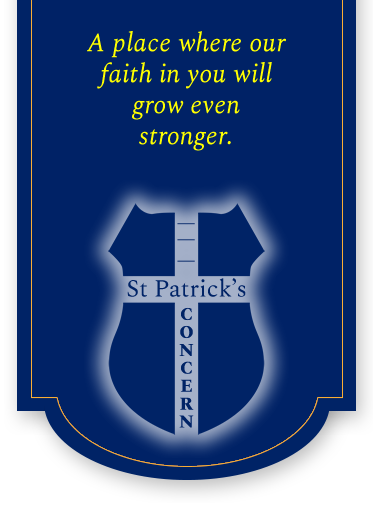 School Profile
St Patrick's School in Katanning is a Catholic Primary School catering for all student s from Kindergarten to Year 6.
At St Patrick's Primary School, we are blessed to have so many wonderful children in our care. We believe that each child is a precious gift from God with their own gifts and talents. Our aim is to support each child in using their gifts to find their place in this world. We acknowledge the great work that parents do as primary educators of their children and we are striving to build open and trusting relationships with parents and guardians. We have a very close link with our parish in supporting our families and outreaching to those who are in need.
Our teaching and learning program looks to promoting life-long learning and the development of the whole child spiritually, emotionally, physically, intellectually and socially. Teaching and learning are at the core of our business and promotion of quality research based practice is driven at St Patrick's.
The school offers specialist programmes in the areas of Performing Arts / Music, LOTE (Italian), Physical Education, Computing, Religious Education, Humanities and Social Sciences, Health and a Whole School Literacy and Numeracy Program. The school has a The school is well resourced in all areas and also enjoys the advantage of being able to share the use of the Parish Hall as an additional facility. The contribution of parents in the school is strongly encouraged and is a feature of the school.
There is a School Board, whose function and responsibility is to oversee the financial management and future planning of the school, and the Parents and Friends Association is the body through which parents can make a more formal contribution to the life of the school, through fundraising and the development of social networks
School Values – Concern
Respect Respectful schools are, by definition, democratically informed learning environments where people feel safe, supported, engaged, and helpfully challenged. Respect doesn't happen in isolation; it's based in relationships. As we learn and teach, we are—or are not— respectful in the context of our social, emotional, civic, and intellectual interactions.
Responsibility We have a duty to be accountable for ourselves and for others
Generosity In helping others, children create their own proof of worthiness: they make a positive contribution to another human life.
Independence Children are encouraged to make decisions, solve problems, and show personal responsibility
Belonging We are part of a Catholic school and a wider community
Mastery We pursue excellence and being the best that we can be.
Pastoral Care
At St Patrick's Primary School Pastoral Care is central to the ethos and identity of our school.
There are many faces of Pastoral Care. it is best defined in the expressions of care that bring to wholeness the physical, social, intellectual, emotional and spiritual development of all within the school community.
Above all, St Patrick's Primary School is a community that creates a cooperative, enthusiastic and supportive environment where each person feels safe, accepted, valued and able to learn in order to reach their potential.
That all staff will have a shared belief and understanding regarding effective teaching and learning practices