St Patrick's School
Katanning
St Patrick's School
Katanning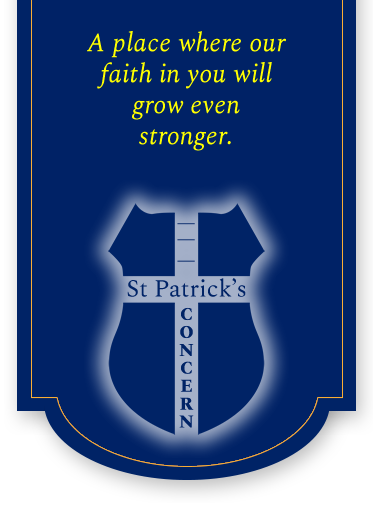 Purpose
To provide a safe learning environment, illuminated by faith, in which all students thrive.
Vision
To provide quality education for our students and the wider community
To provide a faith filled learning experience for our students
That all staff will have a shared belief and understanding regarding effective teaching and learning practices
Promises 
Staff will model their behaviour on the person of Jesus
All students will develop their physical, spiritual, emotional and intellectual capabilities
Parents, parish and the wider community will be involved in the educational experience offered by the school
Core Values "Concern"
Concern for God
Concern for others
Concern for self
---
School Prayer
O Lord,
The name of our school is St Patrick's. Its motto is "Concern."
Help us to live up to that motto and show Christ's concern to all.
May our school be a place where we shall make firm friends,
Where we shall enjoy the best days of our lives, and especially,
Make St Patrick's a place where our faith in you will grow even stronger.
Amen.
---
St Patrick, Patron Saint of Ireland
St. Patrick, the patron saint of Ireland, is one of Christianity's most widely known figures. But for all his celebrity, his life remains somewhat of a mystery.
It is known that St. Patrick was born in Britain to wealthy parents near the end of the fourth century. He is believed to have died on March 17, around 460 A.D. At the age of sixteen, Patrick was taken prisoner by a group of Irish raiders who were attacking his family's estate. They transported him to Ireland where he spent six years in captivity. During this time, he worked as a shepherd, outdoors and away from people. Lonely and afraid, he turned to his religion for solace, becoming a devout Christian. (It is also believed that Patrick first began to dream of converting the Irish people to Christianity during his captivity.)
After more than six years as a prisoner, Patrick escaped. According to his writing, a voice-which he believed to be God's-spoke to him in a dream, telling him it was time to leave Ireland. To do so, Patrick walked nearly 200 miles from County Mayo, where it is believed he was held, to the Irish coast. After escaping to Britain, Patrick reported that he experienced a second revelationan angel in a dream tells him to return to Ireland as a missionary. Soon after, Patrick began religious training, a course of study that lasted more than fifteen years. After his ordination as a priest, he was sent to Ireland with a dual mission-to minister to Christians already living in Ireland and to begin to convert the Irish.
Familiar with the Irish language and culture, Patrick chose to incorporate traditional ritual into his lessons of Christianity instead of attempting to eradicate native Irish beliefs. For instance, he used bonfires to celebrate Easter since the Irish were used to honoring their gods with fire. He also superimposed a sun, a powerful Irish symbol, onto the Christian cross to create what is now called a Celtic cross, so that veneration of the symbol would seem more natural to the Irish. The Irish culture centered around a rich tradition of oral legend and myth.
St Patrick, the patron saint of our school and parish was followed by the many Irish immigrants who formed the core of the faithful in and around Katanning. Through his intercession, many prayers have been answered, and we hope his blessings continue. His example of prayer and faith continues to be our guiding light. We hope that the shamrock, which was used by Saint Patrick to represent the Trinity of God the Father, the Son and the Holy Spirit will continue to be our guide, as it was for Saint Patrick.
To provide a safe learning environment, illuminated by faith, in which all students thrive.